What about Electric Bikes? These bikes might be best suited as an efficient form or transportation while delivering bulk goods such as food items by bringing them right up front doorsteps without any need for complex vehicle charging stations. So if you're looking into which e-bike for delivery will suit your needs best then keep reading our article below. So, what are the best electric bikes for delivery?

The Era of Electric Bikes for Delivery
It's a simple question that has a slightly complicated set of answers. Large amounts of home delivery now are small items, ordered from Amazon, eBay, or some other online provider. As restaurants struggle in this new socially distancing world, then there is no reason a whole lot of eat-out takeaway salt beef sandwich in NYC, Uber Eats pizza in Chicago, Deliveroo Indian curry, or Just Eat Chinese meals need to go out in a fossil-fueled truck or carbon creating van – or even on a petroleum-powered motorbike or motor scooter.
What's more, electric bikes can go places where a gas-powered scooter or small motorbike can't. Try taking an innocent-looking and silent e-bike into the lobby or foyer of an office or apartment building (or on public transport) and you might get away with it. Now try that again with a Honda SuperCub or better still a Harley – Davidson. See what I mean.
So, we looked at 9 top choices for an electric bike for a delivery job with a special emphasis on an electric bike for food delivery.
Top Three E-Bikes for Delivery
Before looking in detail at our 9 best bikes for delivery here are our top three best electric bikes for delivery

EDITOR's PICK
«EDITOR's PICK»
Best for full-on power
Our rating: ⭐⭐⭐⭐⭐
This super powerful bike mates a big battery with a high output engine. Add the snow-capable tires and the Cryrusher delivers the good – literally. Its styling might be in your face and it is not the cheapest but how much would it cost you if you can't deliver on time?
Pros:
— Loads of motor power;
— Plenty of battery to back up the motor;
— Battery is removable - great for fast charging.

Cons:
— Not the cheapest.
«EDITOR's PICK»
Best for the canyons of Chicago or downtown Manhattan
Our rating: ⭐⭐⭐⭐⭐
There's plenty of power on tap with the Ancheer 500w, you could save a couple of hundred bucks on their 250w option but we'd take this bigger baby every time.
Pros:
— Good power;
— Well made design;
— Removable battery.

Cons:
— Even more power would have been nice.
«EDITOR's PICK»
Best high-performance e-bike
Our rating: ⭐⭐⭐⭐⭐
Another high-performance e-bike, this time from Aostirmotor. We like the idea of a handy removable battery. That means you can buy 2 batteries if you want and keep one always ready to go and the other ready to charge. Mind you the styling wouldn't work for a florist.
Pros:
— Powerful battery combined with a powerful engine;
— Nice smooth gear change;
— Great super-sized tires means great all-weather performance;
— Built-in mud flaps - no one wants to make deliveries with damp shorts.

Cons:
— Maybe a little too 'butch' of a look for some. Why doesn't every bike come with mudflaps like this?
---
Buying Criteria for an electric delivery bike
Almost every prediction of the future is pointless. If you don't believe that, take a look at the 'expert' predictions 12 months ago and you'll see what we mean. Who would have thought we would be told to maybe drink bleach by a President?. Who saw that one coming? What we can say is that something is likely. It seems very likely that things are looking up for Doordash, Grubhub, Just Eat, Postmates, Bite Squad, Deliveroo, and almost all the rest of the delivery to the home food takeaway industry.
It follows that folks ordering food will want it on time and at a reasonable price. So, those, plus of course safety, really are the first and foremost sets of criteria for an e-bike for delivery.
First, will it get the food to the customer safely and in a reasonable time – even maybe jobs in New York in the snow? That means you will need some relatively high power, properly motorized, e-bikes for delivery. It's going to be a competitive market and the popular delivery services will partly be the ones with the reliable workers who provide on-time service.
The next point is cost – not just the price paid for the initial purchase but also the real total costs of ownership (TCO). That means Accountants are likely to take a view on what really is suitable for food delivery. That's true if a company is making a purchase – pay too much and the service will be less profitable but pay too little and the service will be poor.
However, TCO might be complicated for the non-accountant but also true if you are a delivery worker. The issue doesn't just revolve around getting the best price. You need to get the right price for you. Pay too much and it will take too much of your wages. Pay too little and it might let you down and even lose you your job.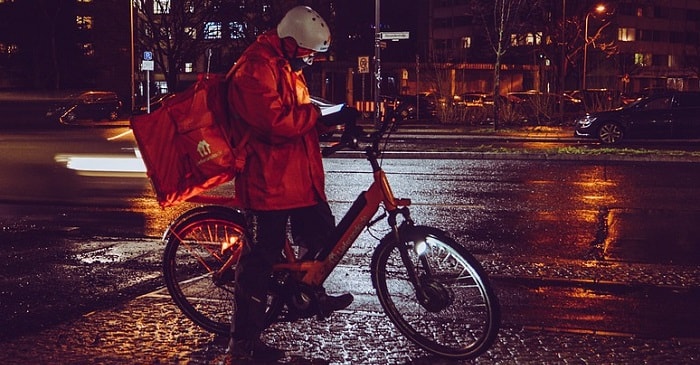 You can usefully break TCO down into quite fine detail if you are seriously asking what is a best electric bike for delivery:
How much does the bike cost to buy?
What extras if any do you get with it when you buy it, that you might otherwise have to pay for?
How often will parts need replacing and if so how much will that cost (that's quite a tricky one)? e-Bike Batteries are really expensive.
How much unproductive daily downtime might be needed. This could be a daily slow battery charging.
How much unproductive other or weekly/monthly maintenance or repairs are needed?
How much revenue can the bike generate in a day?
Are there any issues with the legislation, insurance, liabilities etc. you need to factor in?
If you sell the bike later, for any reason, what is it likely to be worth?
This is all business school stuff and you might think it is overkill. You might be wondering why can't we just get to the buzzwords like edrive, sondors, elmoto, and regenerative braking.
Well, the answer is that this is a business decision. It's really not the same as buying an e-bike for fun or even for commuting. It's your livelihood. So with that in mind, also remember that the home food delivery business is pretty hotly contested and will only get more so if things stay as they are. Competitors will be after your share of the pie (see what I did there?). So, you need to make sure you have found the best electric delivery bike for you. Cheap to buy doesn't mean the best overall value for money. Finally, let's not rule out putting the e-bike to other uses. Maybe it can be used as a cargo bike, or for courier work, or grocery delivery etc. So, ask yourself if you have enough information to make the correct choice.
Remember that the total cost of ownership means just that. It's not just the purchase price and then running costs. It's any costs. For example, we later talk about removable batteries, which can be a big plus for a delivery business running a fleet of e-bicycles. If you don't have removable batteries and one of your bikes has no charge, then what are you going to do? Maybe you have to buy spare bikes. That's a hidden cost. Then supposing it snows and you have e-bikes that can't get around easily? What's that going to cost you?
In summary, so far, electric bikes cost more to buy and to run than traditional bikes but can do more than traditional bikes. That added cost is because additional component buying and maintenance costs include the battery, the charger, the electric motor controller, and the electric motor. e-bikes also need very robust waterproofing, and very dependable protection of their electrical components from snow, sand, snow, grit and any other kind of particle.
One important choice is the battery. In this kind of demanding application, we generally would avoid 250w or smaller and we prefer powerful motors (ideally 48v, 52v, or 72v systems) mated to 500w or 1000w Lithium-Ion batteries (Li-Ion), or Lithium Polymer (Li-Po). This is a better bet rather than low power or worse still lead-acid batteries (especially as a lead-acid battery is heavy and generally not that efficient).
Note that the battery needs replacing eventually, and this is especially true for high mileage uses, such as food delivery services. All rechargeable batteries deteriorate over time.
A well-maintained Lithium battery might be good for about 1000 charges. A lead-acid battery or poorly maintained Lithium battery will not last as long. That might mean a new battery every couple of years – a couple of hundred dollars or more.
So, be careful about buying an 'affordable' bike with too low quality a battery, or not taking care as the manufacturer recommends.
Best Ebike for Delivery in 2022
Now we have looked into real costs (that and the bikes themselves took us about 85 hours on this review), here is our full list of 9 e-bikes for delivery jobs.
---
---
1. Cyrusher XF660 1000W Electric Bike
Best for full-on power
This super powerful bike mates a big battery with a high output engine. Add the snow-capable tires and the Cyrusher delivers the goods – literally. Its styling might be in your face and it is not the cheapest but how much would it cost you if you can't deliver on time?
You get a beefy 48V removable battery and a humongous 1000 watts of pure power. The big tyres are great for bad weather too and you can even charge your phone from the bike, which is ideal for deliveries when you need to stay in touch with base and use the sat nav function.
It was not designed for deliveries in all probability but in fact is ideal for the job.
Pros:
Loads of motor power
Plenty of battery to back up the motor
Battery is removable – great for fast charging
Verdict: Come rains, snow or shine, this will get the pepperoni pizza through.
2. ANCHEER 500W Electric Bike
Best for the canyons of Chicago or downtown Manhattan
500w gives plenty of pavement pedaling power and we like that oh-so-important removable battery. The cost is good too, considering the specification and you get a decent roadbike for your money.
Pros:
Good power
Well made design
Removable battery
Cons:
Even more power would have been nice
Verdict: A good quality understated design makes this one of our likes.
3. AOSTIRMOTOR Fat Tire Ebike
Best high-performance e-bike
Is this a robot in disguise? No, it's another high-performance e-bike, this time from the team at Aostirmotor. We like the big tires, the fact that it actually comes with real fenders/mudguards front and back (who wants to be wet and muddy all day long?) a stand and the handy removable battery. With all the e-bikes on our list, that means you can have 2 batteries and never be caught out waiting for your battery to fully charge (which on some bikes can be almost overnight). You are always ready to go with that Sushi delivery.
Pros:
Powerful battery combined with a powerful engine
Nice smooth gear change
Great super-sized tires means great all-weather performance
Built-in mud flaps – no one wants to make deliveries with damp shorts
Cons:
Maybe a little too 'butch' of a look for some. Why doesn't every bike come with mudflaps like this?
Verdict: If you like the look, this is a great bike for the job.
4. NAKTO 26″ 250W Cargo Electric Bicycle
Best cute style
OK, now we are going to contradict ourselves. So far, we have looked at big beefy butch bikes that are all designed to look a bit like one of the Transformers. That's all fine and good, but not everyone wants a heavy metal look for their business. If you are delivering on the cute and chintzy side of the spectrum or want something (without being sexist) that is a bit 'girly' then the Nakto might be for you. It is a genuine cargo bike with both a basket up front and rack outback and looks totally different from anything else on the list.
So, if you are in Manhattan delivering luxury chocolates, Amsterdam delivering tulips (or in San Francisco to deliver flowers to go into people's hair) then the Nakto is well worth a look. Mind you San Francisco is a bit hilly!
Cons:
Er…the look really. More suitable for girls
Verdict: If you think you want something for your business that says fluffy bunnies, then this is the bike for you.
5. Tomasar Power Electric Bike
Best full-frame folding bike
Our number eight entry is this interesting folding bike from Tomasar – it's a bit on the large size for a folder but has just about decent power at 250w and a very decent 36v battery. On that slightly underpowered front, on the plus side this is just 37lbs, so that's less for the battery to be pulling anyway (and very good for a folder e-bike). Other cool stuff includes fenders, LED headlamp and horn.
Pros:
Less compromised than many folding bikes
Lightweight design for its type
Plenty of extras that are cost options on some other bikes
Cons:
Load capacity is under 200KG
Verdict: If a folding bike is your thing, worth taking a look at.
6. Eahora XC100
Best for the long haul
Our final entry is another eAhora, this time the XC100/AM100, which is no slouch, with a 350W brushless gear motor and removable 48V Lithium-Ion Battery. The XC100 isn't the fastest or most powerful but is great for those long days (or long nights) of delivery with a well thought out pedal assist system (PAS) that will see you OK for many a long and weary mile. That's going to be important for some kinds of delivery business when it's a marathon, not a sprint
A worthy final entry on our candidates for the best e bike for delivery jobs.
Pros:
Decent power coupled with good pedal assist gives a long working day
Reasonably priced
Restrained styling
Cons:
A bit more power would have been nice
Verdict: A competent option if you want something sensible for deliveries that doesn't seem to look either like you are actually going BMX biking or have just stepped out of an old watercolor painting.
7. ECOTRIC 26″ 1000W with 48V/13AH
Best for a company 'look'
This Ecotric model rocks a totally different look to anything else on our list and boast plenty of muscle to back it up. There's some great features too, like a neat LEDm status display and – yes you guessed it – a removable battery.
The clean-cut looks might well swing it for some businesses as it does in fact look business-like and the slab-sided frame could easily have a company logo put on it – not sopp easy on some other models.
Pros:
Lots of power
Great look that could easily be given a corporate makeover
Removable battery
Reasonably priced in its category
Cons:
Where are those color-coded fenders/mudflaps this so obviously needs? C'mon guys!
Verdict: It would suit a small business that needs a branded fleet of e-bikes.
8. eAhora X7 Fat Tire Folding Electric Bike 500W 48V
Best folding e-bike for deliveries
Our list wouldn't be complete without a look at the folding e-bike. Plenty of people struggle with storage (or need to get the bike onto some other form of transport) and in that case, nothing beats the convenience of a folding cycle. Some folding bikes are a bit underpowered for deliveries and others are a bit flimsy but that's not the case with the X7 which ticks the box on battery, motor and weight (64 pounds and it is rated to carry 330 pounds). Then you get mudguards / fenders and – wait for it – rear carry rack. Finally, it will hit nearly 30 mph. Of course, we aren't suggesting you do that – right?
It's almost as if an eAhora product designer had deliveries round town in mind with the X7. If it wasn't the fact that not everyone likes folding bikes, it could easily have been near the top of our list.
Pros:
It folds – great for storage or public transport
A lot more power than your average folding bike
Removable battery
Fenders!
Cons:
Although the weight is reasonable, it's still quite a bit more than some fixed frames
Verdict: A go-anywhere folding design that is easy to carry and store too
9. Eco motion-City eBike 350W
Best for that retro laid-back image
Here is another 'statement' e-bike that says 'I'm really not into all that lycra-shorts narcissistic Decepticon mountain biking nonsense'. Ecomotion does have a point. Some mountain bikers seem to be mainly concerned with impressing other mountain bikers about how pointlessly expensive their bike and their clothes are. All a bit silly really – at least that's some people's view.
So, what we have here is a sensible old-school bicycle that just happens to have a very reasonable 350w motor and a decent set of accessories like a cargo carrier and fenders and even – and this is cool – an electric horn. You get a very comfy saddle too – much more so than the normal sado-masochistic mountain bike variety. Either you'll love it or hate it. We love it.
Pros:
Quirky and laid-back looks
Good power at 350w
Fenders and a cargo carrier built-in
Very comfortable
Cons:
Some other bikes in this category cost somewhat less to buy (but not necessarily to run)
The looks are likely to divide people between love and ridicule
Verdict: Plenty of power in a relaxed bygone – era look for the delivery e-biker at a reasonable price.
E Bike for Delivery
That wraps up our list of candidates for the best e-bike for delivery jobs. As you'd expect there is no 'best' bike, it is all about your personal circumstances (or about your Company).
We hope you found this useful and please let us know any questions or comments. The day of the e-bike is here! Thanks for reading.